An interdisciplinary thought about hate crime
By Joanna Perry
Joanna Perry is an independent consultant and co-chair of the advisory board of the International Network for Hate Studies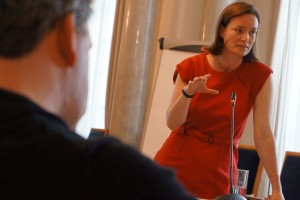 I am currently studying for a post graduate certificate in Online and Distance Education at the Open University. One of the things that I am enjoying the most are the unexpected connections between what we are learning about learning and my own work over the years.
We were set a reading by John Seeley Brown et al. early on in the course.
One of several ideas that grabbed my attention was:
'… a concept…is always under construction'
A lot of my working life has been spent on understanding and implementing various aspects of 'hate crime' as a way to understand and respond to often bigoted and always targeted violence against marginalised and socially excluded groups. In other words, learning and raising awareness about 'hate crime' not just as a phenomenon but as a conceptual 'tool'. I should say that the relatively straightforward description of hate crime that I have offered here belies the lively and complex debates about the nature of identity, freedom of expression and prejudice contained within it. Certainly, when I have designed and delivered 'training' and 'capacity building' activities on 'understanding and responding to hate crime', my most common experience is that the diverse communities affected by targeted violence and the police and prosecutors tasked with their protection will have strong and often conflicting opinions about hate crime's prevalence, impact, appropriate responses and definition, thus raising questions about its use and very relevance as a conceptual tool.
Brown et al. go on to explain, '…it is not possible to use a tool appropriately without understanding the community or culture in which it is used…Activity, concept and culture are interdependent…learning must involve all three'.
And that made me think more.
While the focus of Brown et al.'s argument was on the need for students to be taught not just the 'know what' of a subject but also the 'know how', I found it equally powerful when it comes to thinking about how 'international experts' like me can fulfil the role of teacher in contexts with which they have limited familiarity. Using Brown et al.'s lingo, the teacher needs to be 'inculturated' into the lived reality of the police officers and prosecutors that s/he is teaching as much as his or her students need to be inculturated into the idea that the conceptual tool of hate crime is the best way to explore, understand and – most importantly – to prevent targeted, bigoted violence.
These connections helped me further develop and articulate my existing beliefs: firstly that hate crime cannot be implemented as an international concept unless it is accepted that it is and should always be 'under construction' and; secondly that the various stakeholders across disciplines and countries should have an equal and meaningful stake in this process of construction, as opposed to it being 'delivered' to them as a pre-determined set of laws, procedures and approaches.
This is a challenging proposition. How can international organisations measure the implementation of something that is in a perpetual state of renovation by so many different stakeholders? Surely stable concepts are the necessary foundation for legal and monitoring definitions, laws, procedures and statistics. Yet, we cannot ignore context and its influence on people's understanding, use and perception of, in this case, criminological and criminal justice concepts. What is being suggested here is that conceptual tools should be understood and implemented through and influenced by a prism of diverse cultural, social and historical realities. And, that a learning environment is possibly an ideal place for this process to take place.
I found that examining a familiar problem through the lens of learning removed the political norms and power dynamics often connected to discussions about the hate crime concept and its implementation. It made me think more about the context in which I and many others work, and its influence on our needs as policy advisors, teachers, learning designers and trainers. It also made me think more about the needs of our 'target groups', 'stakeholders' and 'participants' and how taking a rooted and contextual approach will influence their learning and should influence our teaching.