Mapping Homophobia and Misogyny in Rap Music
By Cinzia Rodrigues, Student, University of Sussex, School of Law.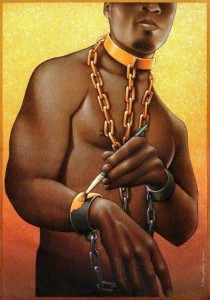 The decade of the 1970s witnessed the birth of a form of protest art for young men of color from disadvantaged areas in the Bronx.[1] The mixture of street dance, art, poetry, vocal and oratory dexterity, the artistry of combining different music styles, and the wealth of Black and Latino cultural traditions gave rise to Hip Hop (ie. conscious movement).[2] Hip hop captured the voice of a long lineage of slavery and systematic oppression of minority diaspora by the white supremacist power structures – "The civil war that was never settled!".[3] Black and Latino men's way of resisting their own system of oppression was fighting back in their communities, and also in Rap music.[4] Rap effectively gave men of colour a platform to challenge institutional racism and reclaim their manhood.[5]
Hip Hop's "Golden Rule" was Peace, Love, Unity and Having Fun, calling women Queens and men Kings.[6] However, the emergence of "mainstream corporate rap" in the late 1980s, has led to a rapid paradigm shift in Hip Hop culture.[7] Of particular concern is that "gay bashing" and "women trashing" subject matters have become increasingly normalized, and even glorified in popular culture.[8] Has rap music always been completely desensitized from homophobia and misogyny, and if not, why are so many rappers using this rhetoric? What are the prospects for Hip Hop?
Gangsta Rap: The Crack Generation
Gangsta Rap spread the mythology of Black Manhood: living the "Thug Life", being "dirty rich", dominating other men and objectifying women.[9] This genre emanated from Reaganomics' austerity measures, and the gang-prison culture at a time crack addition reached endemic proportions among the Afro-American underclass.[10] Moreover, it reflected the "long history of the American social imagination", where Jesse James, Tony Montana, and other outlaw type of persona "became the suitable metaphor for the notion of manhood".[11]
Former gangsta Ice T pioneered the genre in 6'N The Mornin' (1986), providing a wake up call to the systematic gang violence and police brutality in West Coast inner-city. N.W.A's (Niggaz With Attitude) (in)famous Straight Outta Compton (1988) was a turn point in Hip Hop history. This was the first time that the word "N**ga" was used "from a standpoint of power".[12] The single F**k Tha Police (1988) depicted Black community's resentment towards Police's constant and unfounded harassment. However, the group has been highly criticized for being inherently misogynistic.[13]
In A B**ch Iz A B**ch (1988) Ice Cube points out, "Now the title b**ch don't apply to all women/But all women have a little b**ch in 'em". Besides, in One Less B**ch (1991) Dr. Dre expresses, "Coughed to the boss and got tossed/One less b**ch you gotta worry about". It is worthy of note, that gangsta rappers represented a lineage of Black men, trying to deny their insecurities and frailty, in order to regain their masculinity.[14] What is unfortunate is that these rappers were (over)using this misogynistic narrative as a mechanism to validate their own manhood. [15]
Nevertheless, gangsta rappers were not the precursors of homophobia in rap culture, but instead "squeaky-clean" rappers. For example, Beastie Boys' Licensed to Ill (1986) was originally named Don't Be a F**got.[16] In He's The DJ, I'm The Rapper (1988) Will Smith raps, "all the homeboys that got AIDS be quiet". Contrastingly, rapper Professor Griff was expelled from the legendary group Public Enemy for his unapologetic homophobia.[17]
Ironically, the exaggeration of a male bonding even in the pursuit of sexual gratification with a woman – when MC Ren describes, "5 N**gas in the bucket [car] with the neighborhood h*" and Snoop Dog says, It Ain't No Fun If My Homies Have None (1993) – implies that in fact "homoeroticism is an intrinsic aspect of rap culture".[18]
Corporate Rap: "Mo Money Mo Problems!"
With the passing of the Telecom Act in 1996 large media corporations outnumbered Black radio station's ownership, thereby establishing the rap industry.[19] This commodification and commercialization of rap has completely reshaped rap consciousness.[20] Of particular concern is the imaginary of Blackness conveyed by record labels – predatory behavior, hypersexuality, hypermasculinity, "Bling mentality", and so forth.[21] Hence, rappers are pressured by record labels to match these criteria, in order to secure a record deal.[22] Regrettably, these (mis)representations further reinforce society's deep-rooted beliefs about black people.[23]
Academy Award winner and self-proclaimed homophobic, and misogynistic Eminem is famous for his endorsement of violence against women, including rape and homicide, especially referring to his mother and ex-wife. In Criminal (2000) he says, "[…] hate f*gs?/The answer's,"Yes"/Homophobic? Nah, you're just heterophobic". Multiplatinum winner rapper Nelly, interestingly, owns a beverage named "Pimp Juice".[24] In his infamous video Tip Drill (2003) he says, "It must be ya *ss cause it ain't yo' face" whilst sliding a credit card down a woman's buttocks. Arguably, by using this type of unfortunate imaginary, corporate rap represents "Black women in a manner that is not radically different than that of trade slave owners in the 19th century". [25]
Another remarkable single is U.O.E.N.O (2014) where Rick Rock describes, "Put Molly all in her champagne, she ain't even know it/I took her home and I enjoyed that/She ain't even know it.". It is noteworthy that "Molly" is the American slang for powder/crystal MDMA aka a "date-rape drug". [26] Accordingly, the culture that once advocated respect, Peace, Love, Unity and Having Fun became a multibillionaire industry where It's All About The Benjamin.
Hip Hop Meets Fashion
Recently Kanye West and Pharrel Williams began to express their disapproval for the increasingly homophobia, transphobia and misogyny in rap culture.[27] Both Kanye and Pharrel became interested in high fashion, and befriended Marc Jacobs, and other designers that identify as gay men.[28] After Kathleen Jenner (Kanye's "ex-father-in-law") "came out" as a transwoman, West even apologized for his homophobic past.[29] In addition, rappers that identify as homo- or bisexuals have developed the "homo hip-hop" genre – as for instance, Deep Dickollective, Last Offence, Meshell Ndegeocello and Fly Young Red – as a way of resisting homophobia in rap culture.[30] Yet, this is often being made at the expenses of other gay men, and using the same stereotypical ideals of Black manhood, thereby perpetuating the homophobic status quo.[31] Furthermore, there have been several female rap artists that have resisted misogyny using their talent. These include: Lauryn Hill, MC Lyte, Queen Latifah, Salt N' Pepa, Missy Elliot, Mary J. Blige, Faith Evans, and to some extent Foxy Brown, Lil' Kim and Nicki Minaj.
The lyrics aforementioned are among the most infamous in hip hop's history, epitomizing the growing antipathy towards gay men, and the degradation of women in corporate rap. By promoting hypermasculinity and women objectification in order to sell more records, Media corporations perpetuate society's homophobia and misogyny.[32] Although the future of Hip Hop is unpredictable, it seems that the culture that was once designed to minimize violence and "fight the power" became nothing more than a multibillionaire corporate industry that prioritizes profit over human dignity. [33]